Good morning!
It's the first of August which means we have a new challenge for you at
Ready-Teddy-Go.
It's also the the first birthday of our challenge so, in addition to our normal challenge, we are having a Birthday Blog Hop (details further down this post).
The theme of our challenge is:-
My teddy is a Penny Black image called "Joie de Vivre" (4052K). This image never fails to make me smile. I've added some hand stitching using variegated embroidery floss.
Now onto The RTG Birthday Blog Hop
It's our 1st Birthday at Ready-Teddy-Go Challenge and we are feeling in the mood for a celebration so . . .
. . . we have a
Birthday Blog Hop
running from the 1st to the 19th of August.
We have a fantastic Birthday Goody Bag from Meiflower up for grabs as the main prize but there are lots of hidden prizes along the way too so make sure you visit and comment on each of the blogs. Believe me it will be well worth the effort of taking part . . . I can't say any more than that!!!
You
will see a Blue Frog linky on each site but you only have to enter your details in once as we are all using the same collection for the hop.
We are also asking that if you want to take part, you:
1) Are or become a Follower of the Ready-Teddy-Go challenge blog
2) Display our Blog Hop button [below] somewhere in your sidebar; and finally
3) You leave a comment on each of the DT sites
.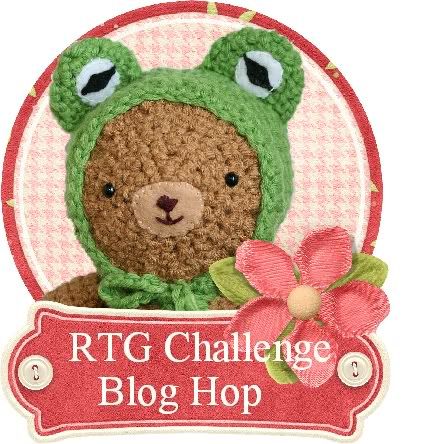 You should follow the hop in this order of visits: